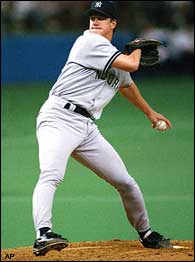 I had a once-in-a-lifetime opportunity yesterday. The keynote speaker at one of our customer's corporate events was
Jim Abbott
, who pitched in the Olympics and the Major Leagues despite being born without a right hand. The stories he told about overcoming obstacles on his way to success are downright inspiring -- and
well-documented
.
Our customer granted me access to Abbott after his speech, so I asked him who his best teammates were and what made them so great. Here's what he had to say:
*
Don Mattingly, Yankees:
"He led by example. He had his place secure in the starting lineup yet he still came to practice early and gave to his teammates to make them better. He could come to spring training at the last second and still be the starter at first base, but instead he came the first day that pitchers and catchers reported. We had a back field that was about a quarter-mile from the clubhouse. He'd walk that far to participate in fielding drills with the pitchers to get a feel for how they covered the bag. There was zero requirement for him to be there, but he was. He had incredible preparation and work ethic. And this was deep into his career. He had already won his Gold Gloves."
*
Bert Blyleven, Angels:
"He was a fun-loving prankster -- nothing was safe around him. He taught me to not take myself too seriously. At the same time, he was a fierce competitor. He was always working out, running, getting prepared, and was ready to pitch when it was his turn."
* "The guys in the Major League clubhouse were all incredibly hard-working guys. And they were very different people, different background, different personalities. It took great leadership, not just by management but by the people on the team. Everybody was insecure about their job, and nobody let up one bit."
Would your boss describe you the way Jim Abbott talked about his teammates? Would your co-workers describe you that way? If you're a manager, would the people you supervise detail your outstanding qualities in this manner? Finally, would your customers describe you as hard-working, prepared, and fun-loving? To be a success in sales and sales management, you have to be a good partner for the people you work with.
-- Jim Roddy, Jameson Publishing
The Erie Sales Club is a joint effort of three leading local businesses:
Jameson Publishing
,
Marsha Marsh Real Estate Services
, and
VertMarkets
.